Advanced Geopolymer Repairs
Arguably the world's most advanced geopolymer repair mortar we believe that GeoKrete has the potential to transform the water and sewer rehabilitation sector.
Large Diameter Pipe Renewal
Our suite of infrastructure solutions includes the Quadex Lining System® (QLS) featuring a next generation material, GeoKrete® Geopolymer. QLS is a structural and corrosion resistant lining technology, effective for manned entry sized structures including pipes, culverts, tunnels and maintenance holes of all types, shapes and severities of degradation. Aqua Metro is the premier Australian partner of Quadex LLC, a Vortex Company, who specializes in developing trenchless construction technologies and application systems for the global water & sewer market.
The Science of Geopolymers
Geopolymer mortars are the next generation of traditional spray-applied structural coatings and are designed to perform where traditional cements and trenchless methods, such as Cured-in-place-pipe (CIPP), fall short. A Geopolymer is a formulated mortar comprised of aluminosilicate powder and an alkaline activator to form a monolithic mineral polymer with exceptional physical properties. Contrary to typical cements which hydrate to bind aggregates, geopolymers use water as a catalyst to a chemical reaction; this reaction yields very high early and long-term strength, exceptional bonding properties and ideal conditions for precision mixing, pumping and spraying.
A Complete Trenchless System
The Quadex Lining System is a unique combination of advanced installation equipment, an engineered process and a truly evolutionary material, GeoKrete Geopolymer. Understanding that every project presents unique challenges, the system is fully capable of integrating advanced, third-party design and engineering modifications to meet the most stringent structural restoration specifications.
The equipment design features advanced technology built into an application spin-cast sled, retrieval system, mixer and pump that allows for a controlled rate of retraction and precision spray application. Other key performance benefits include:
Fully structural lining solution
Eliminate groundwater and prevent corrosion
Small construction footprint
No excavation required
Significant cost advantages
Reduced carbon impact compared to other trenchless technologies
(cementitious, calcium aluminate, CIPP liners)
Quality controlled, precision application process
Reduces bypass operation
Addresses non-round shapes, bends and intrusions
Conducive to deep pipes through standard manhole access
Allows for third-party design/engineering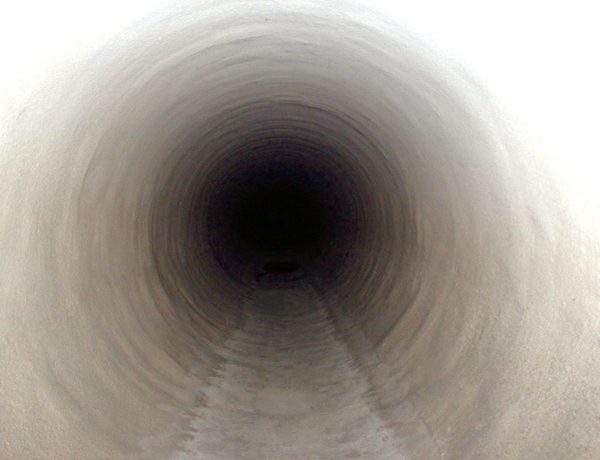 Enhanced Environmental Benefits
Adding further benefit to this next generation structural coating solution, GeoKrete is also a reduced carbon footprint product. Traditional concrete material is one of the world's leading emitters of carbon dioxide, contributing as much as 5% to global carbon dioxide levels. In contrast, tests revealed GeoKrete Geopolymer has a lower overall carbon footprint with reduced greenhouse gas emissions, from raw material extraction all the way through to manufacturing, use and end-of-life. As a result, GeoKrete was awarded Reduced Carbon Footprint Certification by SCS Global Services, an internationally recognized sustainability certification body.
"GeoKrete and the Quadex Lining System offer the industry's most revolutionary large diameter water and sewer pipe renewal technology on the market. Its structural properties and incredible corrosion resistance far exceed traditional shotcrete materials historically used in utility asset renewal. With Aqua Metro's diligent work ethic and progressive approach to business development, they will transform the market economically and elevate product performance standards to new heights."
Aqua Metro has delivered Australia's first GeoKrete restoration projects on behalf of Melbourne Water in the final quarter of 2019.
Contact our infrastructure experts to learn more!